Reverse Osmosis water purifiers are a technology that uses a semi-Semipermeable membrane. That will remove dissolved salts and organic molecules. The water runs under pressure through the membrane filter. It will allow the water molecules, but, not the dissolved salts, bacteria, and chemicals.
City water treatment centers are only treating water with Chlorine, fluoride, and other chemicals. And the water they are treating is sewage water. This will be cancerous to your health, because of the disease called E-coli that will remain even after the clean it. And remain in the water for human consumption. Water purification is also used for a variety of reasons. Like medical, pharmacological, chemical, and industrial applications. The method used includes the process of filtration and sedimentation.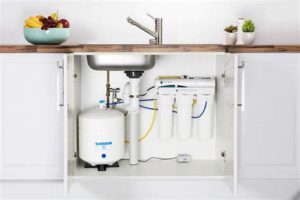 The city water treatment centers are recycling sewage water. Sending it right back to us to drink. The reason why they do not use reverse osmosis systems is that it would be too expensive. And expensive to maintain the filtration process. So they rather save the company money. Without realizing that the water still contains hundreds of contaminants. Or they do but don't give a hoot.
Is tap water safe to drink?
I've done a little research and studies on our water treatment centers. And I have found that tap water still contains over a hundred contaminants. Here are a few to the name of. First some of the metals which are.
Copper, Lead, Zinc, Aluminum, Iron, Arsenic, Magnesium, and Calcium, but not the kind you will find in milk or a banana. They are from an inorganic source of minerals that will cause cancer, not organic.
Bacteria, Viruses, and diseases like Hepatitis C. Gastrointestinal disease, Heliobacteria disease, Parasites. E-Coli, Bone disease, And the list go on.
Why it is not a good idea to drink bottled water
Acidic water turns yellow when a chemical test is done. Like the test, I have done on plastic bottled water here below.
But when I do a test on Alkaline Water, it turns blue or purple. Alkaline water reaches a ph. level from 7 to 14 on the scale of alkalinity. So that being said, having your own pure premium water without it being acidic be better than plastic bottled water? Would it not be saving you months of buying bottled water instead of having your own Water Purification System? Of course, it would and think how much money you would save a month on bottled water. Owning your own water purification system is the best way to purify your water.
Is BPA safe?
BPA is a chemical industrial compound that is used to make plastic harder and durable, and back 40 years ago BPA was considered safe by the FDA. But research has been done about BPA and found it to be cancerous. Why because if left in a hot car or place the BPA will leak into your water and cause cancer if you drink it.
I at one time saw at least a hundred overstock cases of water outside the store because they had no room for it inside. This was in front of the hot Sun. Imagine how many people are going to be sick to their stomach more so when they get cancer drinking this water. So, who knows how long it takes for bottled water to be delivered from state to state without being refrigerated or kept in a cool place? Do I trust bottled water? No! If you must or have no choice and can't afford a water purification system for you and your family. Please buy the plastic containers that say BPA free. This will safer.
PURE ALKALINE WATER
Alkaline water has a ph. level from 7 to 14 and is nutritional. And will flush out your kidneys and your entire system. killing any acidic cells that are housing for cancer cells to grow in. There are anywhere from 5 to 11 stage reverse osmosis water purifiers to choose from and for
5 Stage Reverse Osmosis Purifiers
those who are not able to afford the best. Then 5 stage purifiers are low enough. In fact, lower than those sold by other companies who finance but costs you 2500 dollars for just a 4-stage water purifier which is too expensive. As an affiliate for eBay and Amazon, I do my best to provide you with the best affordable prices.
BECOME A WEALTHY AFFILIATE AND EARN MONEY ONLINE
Take advantage of the 7-day free lessons on how to build your own free website with no experience needed. If you don't join after the 7 day period you can even keep your website free of charge but if you join within the 7 day free lessons, you will get a special premium package markdown $200 dollars off the original price. But if you prefer the monthly payment of $49.00, we can arrange that too.
Website owner: Tony's Pure Systems LLC.
Website: Tony456pt.com